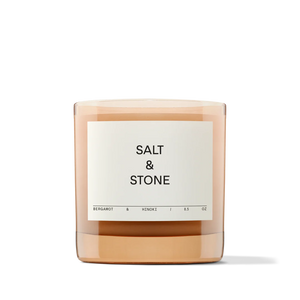 Elevate your space with a cleaner candle.

Comprised of coconut and soy-based wax, this home fragrance burns up to 55 hours, filling any space. Formulated with vegan friendly ingredients.
SCENT NOTES
Sunlight sparkles on softly rolling waves. A deep breath. Awaken. Energize. Lift. Plunge into depths of eucalyptus and orange blossom, earthy vetiver and amber, warm and lingering. Crisp bergamot and sharp grapefruit punctuate—a fresh start, a new day.
Notes:
Top — Italian Bergamot, Grapefruit
Heart — Hinoki, Vetiver
Base — Eucalyptus, Amber, Orange Blossom